Prairie Nutcracker Ballad
written by Kelly Werts for Prairie Nutcracker 2000 debut
(To tune of "Sweet Betsy from Pike")
Act I
Verse 1
There was a young girl of only nine years,
Who came to the prairie in spite of her fears;
Her mother and father were honest and true;
To follow and trust them was all she could do.
Verse 2
They crossed the wide prairie by wagon you see;
I know this quite well 'cause the driver was me!
Through wind and through weather, through Kansas we pressed,
Until we arrived at a place called Fort West.
Verse 3
The family in quite simple quarters did dwell;
Her father gave orders and men served him well.
But orders could not make a little girl see
A reason for loving that lonesome prairie.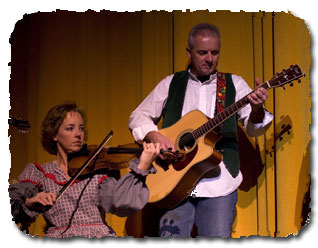 Verse 4
A Christmas Eve party was given that night,
And all of Fort West looked cheery and bright;
An evergreen Christmas tree stood in the hall,
'Twas grand though it was only four feet tall.
Verse 5
The soldiers all danced and the ladies did twirl,
A dizzying sight for a shy little girl;
The music was gay but our newcomer said,
"I'd rather have quiet, I'll just go to bed."
Verse 6
She drifted off clutching her old china doll,
Her new prairie doll on the floor it did fall;
She slept and she dreamt of what she feared most;
Of prairie fires, Indians and wild coyotes.
Act II
Verse 7
The slumber of travelers can be very light;
They toss and they turn through much of the night.
The Lieutenant's daughter through visions and dreams,
Soon learned that the prairie is not as it seems.
Verse 8
The land it is flat but the sky is round,
'Mid all of the quiet there's life all around;
The water will nourish, the fire will cleanse,
A cycle of life that never ends.
Verse 9
The little girl wakens 'mid light streaming down,
A night full of images spin all around.
Her life is a dream but her dream is alive,
A spirit 'mid friends is bound to survive.